Testimonials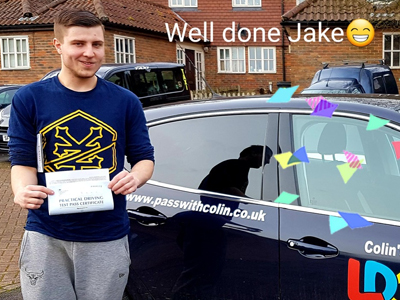 Jake Walters
Freedom! 😁
Jake had a great pass today. A few minor driving faults but a very happy and excited man! Jake used his LDC driving book very well and found it very useful. His commitment, hard work and effort were top notch (everything we love in a learner😊). I'm sure he will be very happy out on the road as long as he's not too hard on himself. 😉 I'll see you soon no doubt when I'm tracking down a lovely coffee. Very well done buddy. 👍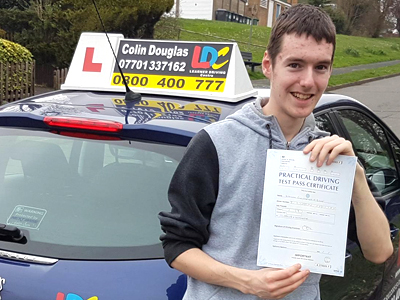 Nathan Bishop
Recommend as a Top Instructor
I thought Colin was an amazing instructor, the instructions he would give to you were very clear and easy to follow. he always showed up on time and was never late, as well as being a good instructor I always got on with Colin as you can have a laugh and a joke as well as learning. I think that the lessons are good value for money. I found the book and DVD to be very helpful and saved me some money in the long run as time in the car is for driving not talking. It also helps you prepare for your next lesson so you know what you want to focus on and plan for with Colin. I would rate the car 10/10, it was easy to use, very comfortable and also spotless.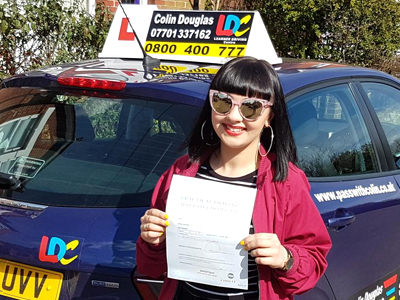 Molly Minall
WOW First Time Passed!!! :-)
Colin's way of instructing was so good, just the right pace and I was at ease all the time. He is very patient, he is always on time and the value for money was superb. I passed within the National average amount of lessons for a learner. I found the book and DVD's very helpful when it came to both the practical lessons and for the theory test as it had all the questions and perception work exactly as it appeared on the test! The car gets 10/10 as it's just the right size, the controls were easy and I was very comfortable driving it. Colin is a brilliant instructor! I was so happy to pass first time which was all down to the excellent instruction. I would highly recommend Colin to ANYONE learning to drive. Colin is an all round top bloke!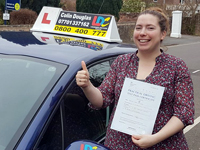 Jamie-Lee Wilson
I Can't stop Smiling - First time pass!!
I had a great time learning with Colin. He teaches, trains and coaches you everything you need to know for test and beyond. I passed first time because of Colin's dedication to teaching his students the right way.He got to know how I worked very quickly and used that in a fun way and taught me to be self analyzing during lessons. I found the resources very useful tools in my learning to drive process, if you miss any of the sections it soon shows when you are behind the wheel. I definitely recommend this way of learning to drive as it is more structured, flexible and not so adhoc. The car was a good all rounder with no issues and easy to drive. It was always spotless and Colin Valet's the car prior to every test! Learning to drive is supposed to be an enjoyable experience and although it was at times nerve racking and stressful I can honestly say I did enjoy the experience and that was down to Colin's calm and assiduous approach to teaching me to be the best driver I could be and for that I am extremely grateful.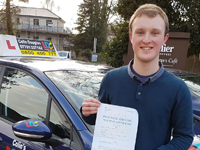 Joseph Smith
Passed first time
The instruction and coaching was always very clear and at no point was I put under pressure if I did something wrong. I made swift progress and I was able to structure lessons to go over particular areas that I thought needed more practice. Colin was always punctual and the lessons were excellent value for money bearing in mind the quality of Instruction I got. I had fewer lessons than I thought I was going to need to pass first time. The LDC system helped in this a lot. The LDC workbook and DVD were very useful and provided excellent tools for getting to grips with the various elements of driving so I could spend the lessons driving rather than sitting and talking through the theory. The in car demonstrator pad also enabled Colin to explain and illustrate all elements and manoeuvres clearly so I could see exactly what I had to do. The car was always in good condition and kept clean and tidy. It was of average size and power so it should be easy to transition to another car.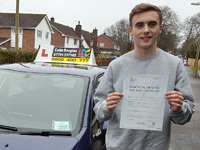 Charlie Dickson
Great Christmas present, Passed first time!!
Well done Charlie on a great pass just before Christmas. A great student who really focused on each and every lesson and did the work we discussed in the LDC book and Dvds for the lessons ahead. Charlie was always engaged during a lesson, asking questions and taking all the coaching on board plus managing to be self critical and self analysing in a constructive manner. Although a confident guy he needed convincing on how good he was and managed to take this through to test after a coupe of extra sessions prior to test which worked a treat. Charlie passed with well below the national average lessons taken.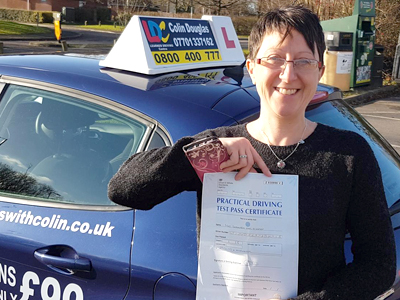 Shaunagh Stimpson
Excellent first time pass
I actually think Colin is fantastic. Always arrived on time, usually early which was great. He got to know what I was like as a person which influenced the way the lessons went, always fun and interactive. I became confident and comfortable very quickly and had fun whilst driving also! I thought it was great value for money. I found the LDC book and DVD very helpful as it enables me to continue my learning and prepare for the next lesson at home in-between lessons. The car was cool, very comfortable, spotless and nice to handle. I would HIGHLY recommend Colin which is why I will also be booking my daughters lessons with him.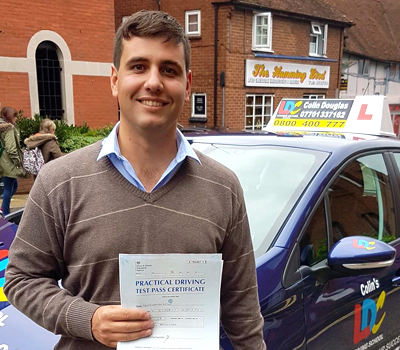 Paolo Damian
Converted my International License to UK Pass
After driving in different countries for 15 years with 3 license renewals I managed to cross this new obstacle in (new home country) the UK. I had only a few months left on my International to pass after my theory exam. I thought the test would be easy, just have a couple of lessons and off I go! Opposed to my idea I had to change my whole way of driving. I think it would have been easier to start from beginning! Colin did an assessment lesson to start that 'deconstructed' my driving style and skill! Shock..ha. Colin was always on time, with a great car, patient and got the best from me, moreover my English is improved but always is difficult for people who speak another language, Colin again was always friendly, speaking clear English and giving me excellent training and indications for the test. The LDC System, Book and DVDs were excellent and saved me a lot of money in the end. A hundred percent recommend taking lessons with Colin, his kindness and respect have been very high scoring points.
Call today on 07701 337162 or Email me to find out more
If you have any questions or to book lessons today, feel free to contact me